You Might Say It's in Our Genes!
The Chmura family has a legacy of woodworkers and skilled craftsmen going back to Bryan's Great Grandfather. He built houses on Cleveland's west side in the 1920's and 30's most of which are still standing.
Bryan's Grandfather, while not a woodworker by trade—he was a highly skilled machinist—refinished many family basements and built furniture, quilt-making racks, step stools, and anything else that friends or family needed.
As a child, Rick always enjoyed going "up the garage" to the family woodshop on West 14th Street in Cleveland to make whatever he could out of the scrap wood, learning at a very early age how to safely operate power tools. As he grew up, he always enjoyed crafting things and building whatever he could in his modest woodworking shop.
Bryan was always the creative one. From the time he graduated from The Art Institute in Pittsburgh, he began designing and building small and large furniture and accessories for his friends and family, always envisioning the day when he could start his own business doing what he enjoyed most.
His vision was realized in April 2009, when Rick and Bryan officially started Custom Complete, LLC. Chmura Custom Woodworks is just the first of what will be a family of companies providing custom services and products to residential, commercial, and internet clients.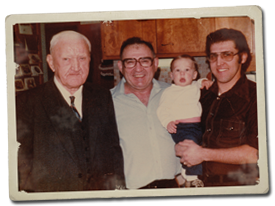 Rick Chmura
Rick has extensive hands-on and management experience in Quality Assurance and Continuous Improvement. He is a certified Lean Expert and Six Sigma Black Belt. Rick has also been certified by the American Society for Quality as a Quality Manager and a Quality Auditor.
Bryan Chmura
Bryan is a lifelong resident of the Cleveland area, born in Brook Park, Ohio, and graduating from Berea High School in 1993. Bryan's strong passion for industrial design led him to the Art Institute of Pittsburgh. He graduated with honors in 1995 with an AAS in industrial design.
Wooden Gifts, Accessories, and Novelty Items, Outdoor Decks, Furniture, Built-ins, CNC Router Products, and more!
Chmura Custom Woodworks will custom design and build your custom woodworking project, big or small, from a single piece of furniture to an entire custom remodeling or home improvement project.
To provide an exciting and worry-free experience for home and business
Custom cabinetry, furnishings, and accessories made to customer specifications
Excellence in craftsmanship
Attention to detail
Constant, clear communications
Honesty and Integrity
Considering a project to enhance your home and your lifestyle, or looking for a custom made gift for a loved one?
Please, contact us today and let our family help serve your family.
Chmura Custom Woodworks
Rick and Bryan Chmura, Owners
5534 Brecksville Road
Independence, OH 44131
P: 216-533-3760
Contact Us